Since we're getting married in almost

5 MONTHS

we are seriously trying to be very frugal this holiday. I came across this on Pinterest and thought it was amazingly clever and wanted to share with my FABulous bloggers!!
They are called 'Cash Envelopes'...and it's called The Cash Envelope System. This system was created by a man named Dave Ramsey.
We are going to try this and see how it works. So far from what I have read, they really work!
Now of course you do not have to have cute, fancy ones like the picture above.. you can do plain white envelopes like Ransom prefers..
( BORING ). =)
You can label them what ever you would like. Most that I have seen are labeled... - groceries..- gifts..- gas..- movies..- dining out..- clothing..- fun.... You get the drift.
The labels can change as you and/or your family changes or even when seasons change!
After each paycheck you look at the money you have and separate it into whichever categories fit your needs best! Once you have spent the money allotted ..THAT'S IT.. until the next pay period! Easy enough...right?
Ramsey says that it is harder to spend cash money than plastic money. When your shopping spree totals up to $120.00 it is easier to just swipe the card.. but if you are physically putting down $120.00 in CASH.. it hurts a little more and makes you more aware! When you think about it.. it is true.
You can either make them yourself or you can buy them on Etsy.com ! (clicking link will take you to the cash envelopes)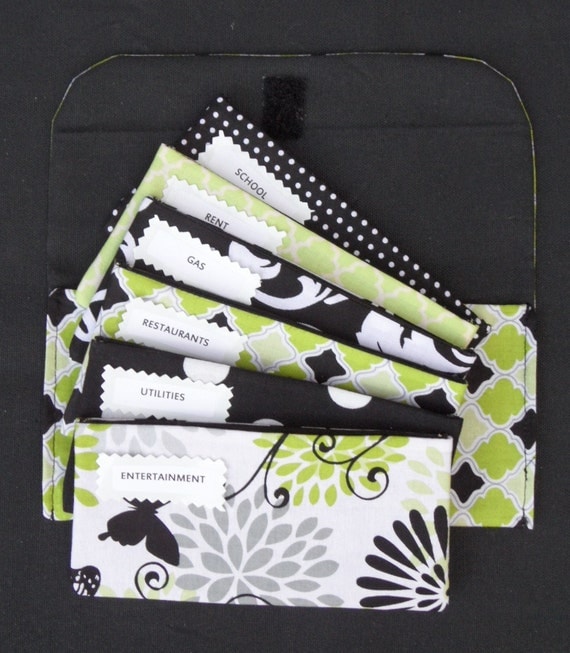 Citrus Designs on Etsy.com
SOOO CUTE!!
If you have this system already, please let us know how it is working out for you!!
*m*